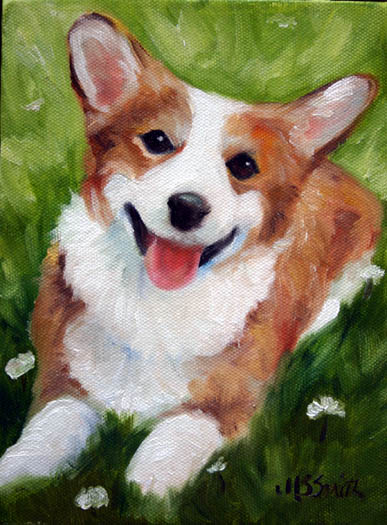 "The Happy Little Corgi"
Is painted on a
Deep Edge Gallery Wrapped canvas. It is ready to hang and a portion of the sale price will go to CORGIAID.
Place your Proxy Bid Early and help Corgi's in need
HERE
on Ebay.
And NO this below painting is NOT a dog! You aren't seeing things, I've just missed painting other subjects. I will continue to paint our furry little friends and can tell it is spring as I find myself with several children's portraits to paint, but I'm also finding the time to squeeze in a few small paintings of random subjects that just strike my fancy at the moment. I am currently listing these on
Art By Us

Just as on Ebay, you can find any of my available listings by searching MSSMITH
"Artichoke"

5"x7" Oil On Gessoboard"